TO serve the unbanked population, deliver financial inclusion, accelerate innovation, and ultimately achieve economic growth, the fintech industry must strengthen its partnership with local government units (LGUs) and the public sector. This was one of the main highlights of the second annual "One with the Nation" conference of GCash, the country's leading mobile wallet.
This year's conference themed "Innovative and Inclusive: The Future of Digital Financial Services" caused a stir this year with a hybrid setup held at Bonifacio Global City's SEDA Hotel in Taguig and simulcast in online via Zoom, with the public, industry partners and members of the media in attendance.
During the event, industry executives and senior government officials, led by Bangko Sentral ng Pilipinas (BSP) Governor Felipe Medalla, gathered in one place to share crucial information on the future of digital financial services.
"The Philippines has made progress in digitizing retail payments while expanding financial inclusion. Recently, BSP has observed that more and more Filipinos are choosing to pay through digital means. In fact, the share of digital payments in the total volume of retail payments in the country increased from 20.1% in 2020 to 30.3% in 2021. The government continues to lead the way in digitalization with 96, 7% of its total payment transactions and disbursements already digital. form," Medalla said.
Given the rapid growth of digital payments and services, the conference also shed light on how LGUs can integrate secure online payments into their services.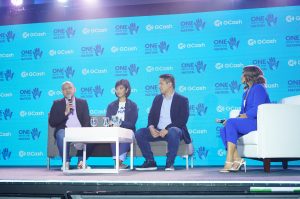 "The local government's adoption of digital payments is, I think, really, the best way to expand the digital space in the country – where the local government is really going for e-wallets and payments to pay taxes or business registration. This is something LGUs can do a lot more," said Mary Jean Pacheco, Deputy Secretary of the Ministry of Trade and Industry.
In her speech, GCash President and CEO Martha Sazon acknowledged that there is still a long way to go to fully achieve financial inclusion.
"We can still do so much more. We again ask for your support as we continue to work to make a positive impact in the lives of Filipinos, especially those who need our help the most. We count on you, our partners, as we continue upwards together with a shared vision of a brighter future for Filipinos. said Sazon.
Addressing the importance of partnerships between the public and private sectors, GCash Chief Client Officer Winsley Bangit also said that the joint effort of these sectors is crucial in its pursuit of finance for all.
"At GCash, we remain committed to being a partner in the central bank's drive to include finance and digitize. And of course your presence here today really shows that the partnership between the private and public sectors is truly important in nation-building, to ensure that no one is left behind, especially when it comes to economic recovery and prohibition.More and more Filipinos are realizing the benefits of digital payments, especially 66 million Filipinos, or about 4 out of 5 adults, now trust GCash," Bangit said.
As more and more Filipinos become more receptive to digital financial services, GCash is also taking the opportunity to continue improving and innovating its services. For example, beyond convenient digital payment options, GCash also offers millions of Filipinos a wide range of financial services ranging from insurance, investment, loans and lifestyle needs with GInsure, GInvest, GLoan, GGives, GLife, and more.
In terms of reaching more communities including micro, small and medium enterprises, tricycle drivers and market vendors who have a great contribution in accelerating the economic growth of the country, GCash also contributes to an access easy to cashless payments through the promotion of the government's Paleng-QR Ph initiative.
Through continued collaboration with LGUs and the public sector, GCash remains steadfast in its mission to make financial inclusion a reality for all Filipinos – by building a trusted digital ecosystem that drives sustainable economic growth.